DIGITAL MONORAIL WORKSHOP AND PRESENTATIONS 2020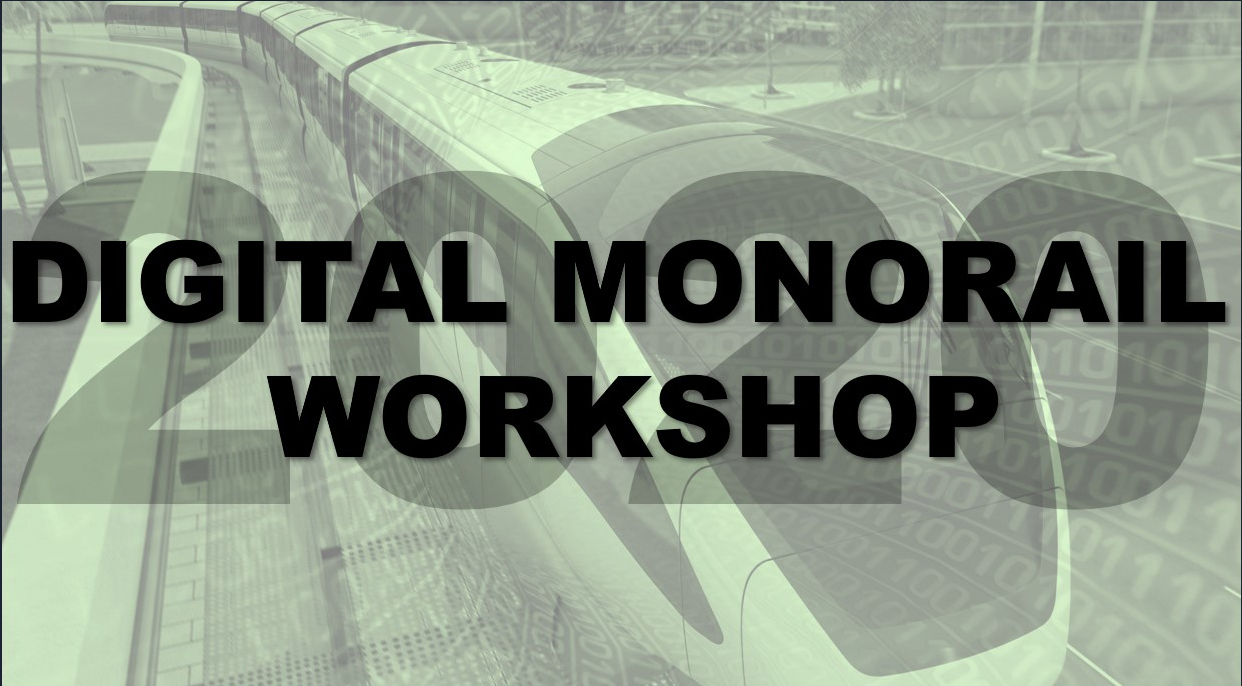 We strive to keep our members safe and healthy while continuing to support the monorail industry during these tough times.  As the situation with the COVID-19 continues to be fluid, and we don't yet know what the next month will bring in terms of scheduling and travel, the Members of the IMA will meet virtually via Video Web Conference for four (4) days from September 19 – 22, 2020. Plans to hold the Workshop ahead of the Innotrans 2020 in Berlin has been changed due to the postponement of Innotrans to April 2021 due to COVID-19. 
The virtual meeting will be organized in a series of activities in 4 days, Saturday, September 19 to Tuesday, September 22, in three-hour sessions each day. The length of the sessions will allow people in the Americas Pacific Coast (UTC-7 hours), and people in the far east, UTC +8 hours) can attend.  Those of you interested in presenting at the meeting, please click on Call For Papers for information.
During last year's assembly meeting (MONORAILEX 2019) that was held in Chiba, Japan, the IMA implemented three working groups whose focus is to further the development of the association.
Strategy and Marketing Working Group
Purpose: Promote Monorail Systems and influence public opinion, decision-makers,
Main content: General inherent advantages of Monorail systems and its applicability,
Communication Platforms: Conferences, paper, web page, forum, etc.
Turnkey Systems Working Group
Purpose: Establish applicable turnkey system performance requirement, based on international standards, to assist consultants, authorization bodies, etc.,
Main content: Proven best practices for optimized total system approach for safe and efficient operation (e.g. passenger capacity, fleet-sizing),
Communication Platforms: Contact other association, norming organization.
Subsystems Working Group
Purpose: Define the recognizable international standards to support customer and industry procurement processes,
Main content: Establish the detailed integrated subsystem performance-based requirements or specifications,
Communication Platforms: Customer events, conferences, paper, web page.
Currently there are three to four persons of the Executive Board in each Working Group. Expert lectures will be given to provide new impulses.
To view the current proposed schedule for the Digital Workshop, please click on the following file: IMA Digital Monorail Workshop and Presentation 2020 Schedule
Further information will be distributed via email and will be posted in our website.
Individuals are invited to participate in one of the working groups.   If you are interested in supporting our association with your expertise, or would like to become a member, please contact us via email at admin@monorailex.org or visit our website at www.monorailex.org.